Bottom end looked good, need tips for pulling the head off

09-26-2008, 07:41 PM
Bottom end looked good, need tips for pulling the head off
---
Well I pulled the oil pan on the '03 that I bought with the siezed motor. Everthing on the bottom loks good, I didn't find ANYTHING in the pan and all the pistons are still connected to the rods. I'm now thinking that I maybe able to get away with just doing the head. Thinking maybe a valve dropped in or something caught up in the timing cover.

Just to recap: bought the truck cheap cause the motor is siezed. It was traded in to a dealership like that and the PO said that he just stopped for a coffee and when he came back out it wouldn't turn over. I can bar the engine backward about 120* and then crank it over on starter a little bit then it goes "BONK!" and stops.

So I'm guessing for the head to come off the exhaust manifold comes off, coolant lines....

What about the intake? Just leave it on?

Timing cover? Is it bolted to the head?

Anyway to tell if a valve dropped? I pulled the valve cover off and as far as I could see everything looked normal.....

09-26-2008, 08:36 PM
Registered User
Join Date: May 2008
Location: Central, MT
Posts: 85
Likes: 0
Received 0 Likes on 0 Posts
Usually when a valve contacts the piston it gets bent and will not return to the seat all the way. Should be able to see one lower than the rest if you take the rockers off.

09-26-2008, 10:05 PM
I don't know it looks pretty straight to me!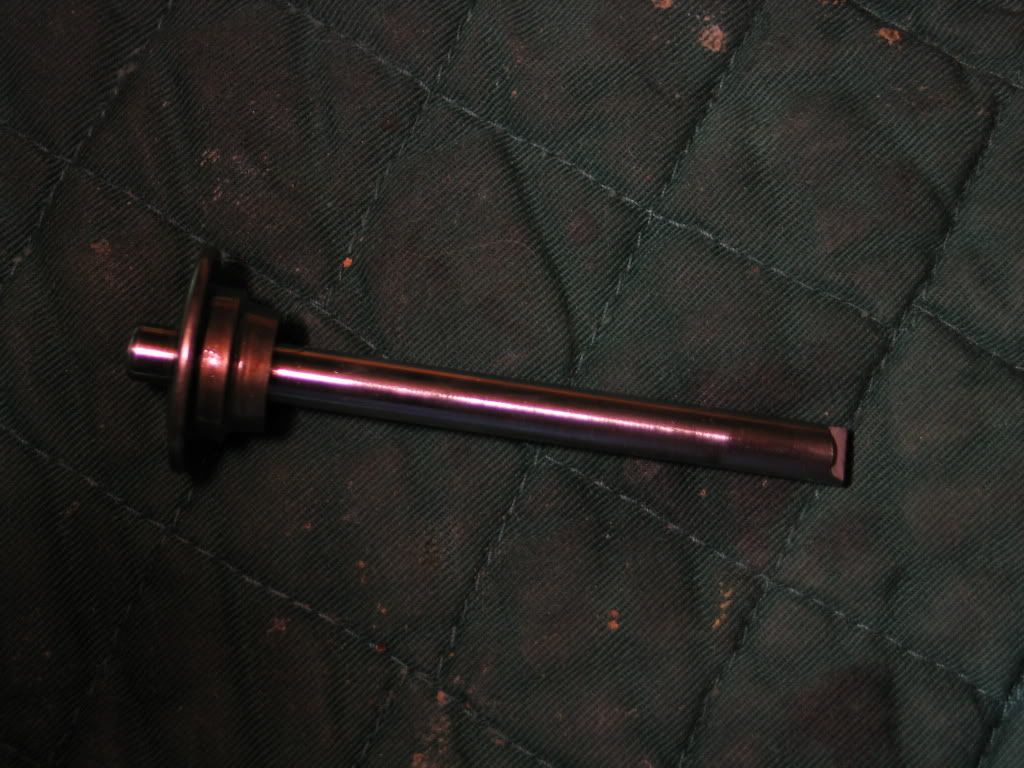 Took your advice and started backing off the rockers, this was the first one I backed off.
I'm guessing the rest of it is buried in the head of the piston. How much damage can the piston take without being replaced and what causes a valve to drop anyway?

09-26-2008, 10:55 PM
Registered User
Join Date: Dec 2007
Location: North Carolina or Kentucky. Take your pick
Posts: 2,738
Received 0 Likes on 0 Posts
Well you definitelly found the problem. And it may be recoverable. With any luck it was not run in the broken state. It is possible the valve broke while shut down from latent heat. It may have not damaged the piston from cranking. Obviouslly the head is coming off. Show us what you find.

09-27-2008, 11:46 AM
Registered User
Join Date: Aug 2002
Location: Kerrville eastern new mexico, west texas
Posts: 3,308
Likes: 0
Received 0 Likes on 0 Posts
take as much off of it as possible the head aint light. when my 03 dropped a valve the cylinder was scorred but i was able to hone it out. take the hood off it will be a lot easier too. the have a bracket on the back to attach to.

09-27-2008, 02:25 PM
Well I've got the head 99% off, I couldn't pull the 4 rear most pushrods. They hit the cowling at the back. Tried to pull the head anyway(using an engine hoist) but it hangs up on those dang pushrods.

I did however get it up enough to look in the #1 cylinder. The piston is toast. Whats left of two valves are imbeded in it with lots of shrapnel. Not sure about the cylinder wall, piston was at TDC. Oh yeah when I took intake heater off there were large pieces of valve laying in there.

Once I get the piston off how do I roll the engine over?

09-27-2008, 02:59 PM
Registered User
Join Date: Jan 2007
Location: kearneysville wv
Posts: 1,572
Likes: 0
Received 0 Likes on 0 Posts
in the cowl directly above the pushrods is two rubber plugs pull those plugs out and lift the pushrds up into there and then they can come out. best thing to do is pull the entire block to replace pistons been there done that Rb

09-27-2008, 03:01 PM
Registered User
Join Date: Dec 2007
Location: North Carolina or Kentucky. Take your pick
Posts: 2,738
Received 0 Likes on 0 Posts
The pushrods go upwards through holes in the cowl. May be plugs in the cowl holes. That will make it possible.
Well not quite as luckly as hoped. Look for a short block, or a long block or from a salvage yard. Now if up to the repair. The block can be sleeved and go back with standard components. The head can be repaired at a Casting repair shop. Or a reman head if necessary. I'll bet you still have a deal when get through.

09-27-2008, 03:20 PM
Ahh thanks! I was in a hurry at the end so I wasn't looking at things as carefully as I should have been. I'm hoping to get back there thios afternoon and finishing pulling it off.

09-27-2008, 04:00 PM
Registered User

Join Date: Mar 2008
Location: Madison, Wisconsin
Posts: 201
Likes: 0
Received 0 Likes on 0 Posts
I would look in the front cover before pulling the head, If it was a valve you should be able to reverse the crank almost 360 before stoping. If it is a standard trans it could have a clutch problem.

09-27-2008, 09:05 PM
Head is off, all 4 valves on Cylinder #1 had dropped in. What a mess! Got the piston out and the cylinder wall looks ok. Someone mentioned cleaning up cylinder walls with a ball hone, whats the difference between that and using a regular stone hone?

09-27-2008, 10:40 PM
Registered User
Join Date: Feb 2007
Location: s .e. pa.
Posts: 828
Likes: 0
hi
a ball hone will clean the cyl compleatly in hi and low spots and make it look new , however it follows the contor of a crocked cyl wall .
a stone type flex hone has a small straighting effect on the cyl wall and will show you if it has any low spots .

i would use the flex stone hone till i got the cyl the way i like it then if there are any low sppts touch it lightly with a ball hone . my $.02.

09-28-2008, 09:40 AM
Registered User

Join Date: Nov 2002
Location: lyman, utah
Posts: 4,043
Likes: 0
show us a picture of the piston and head,also the cyl
i like to look at messes