How to embed youtube videos.

05-03-2009, 02:41 AM
Administrator/Jarhead
How to embed youtube videos.
---
Good day, DTR!
Just another one of madhat's little tutorials... When ever you see a youtube video you like, please embed it into your thread. Often, the video is suitable for the DTR, and possibly even the comments at the time you posted it, but people like to come along and leave nasty stuff sometimes.
To combat this, instead of posting a link, just embed the video. Here's how:
Go to the page that has the video that you want. On the right side of the screen, there is an address bar that says "Embed" (Circled in yellow. Please excuse my 2nd grade drawing skills, I'm a Marine
) Copy this.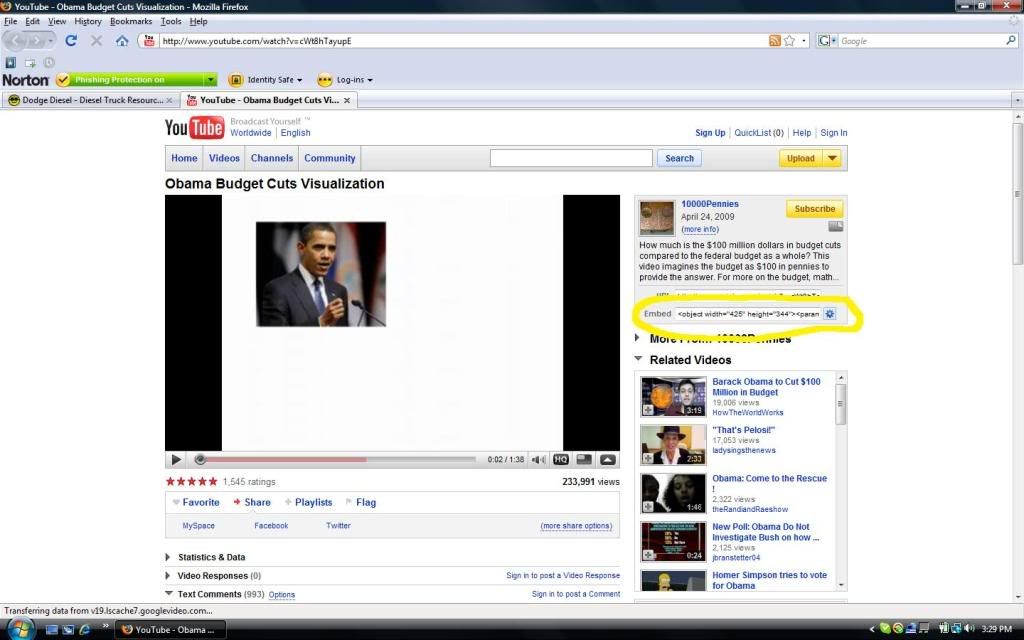 Then, go to your thread/post, and paste it. Put youtube tags around it, like this: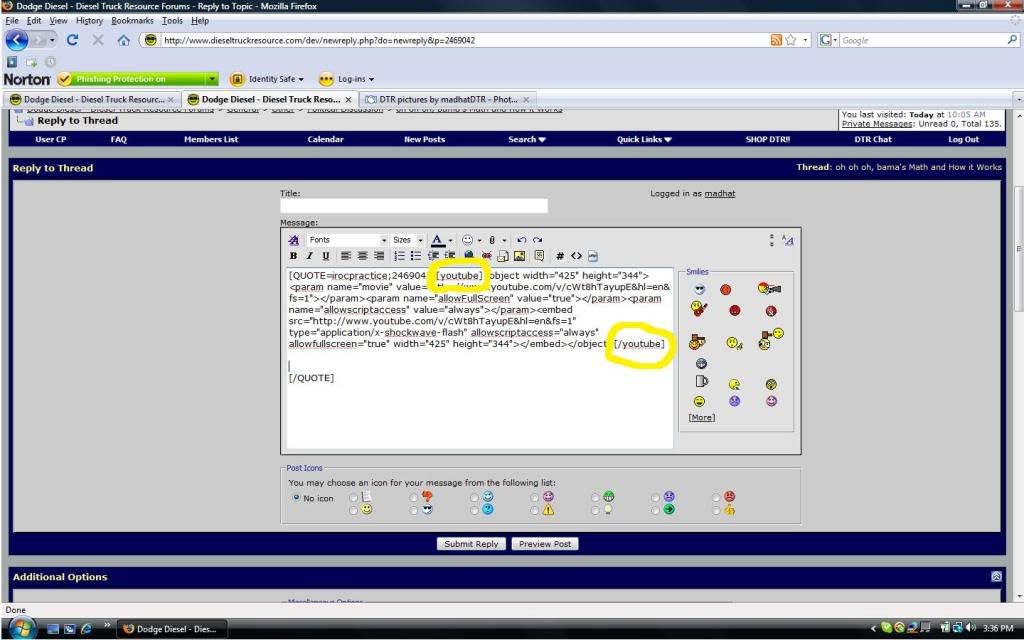 Hope this helps!
mad

05-03-2009, 07:52 AM
Adminstrator-ess
There's another way to do it, too. All you need is the Youtube video ID number. It's in the "URL" box above the "Embed" box, it's the series of characters after "v=". Copy and paste that number, and wrap Youtube tags around it like Madhat showed you. It will look like this when you type it in:

[youtube]0Qb1dqEtYqo[/youtube]

And like this in the post:



05-03-2009, 10:45 AM
DTR Founder
Join Date: May 2002
Location: Raleigh, NC
Posts: 4,924
Good post guys. I get this question a lot. I explain it every time. Now I can just refer them to this thread


05-03-2009, 04:36 PM
Administrator/Jarhead
Boss, there was another forum I was on, not sure which one it was, but it had a button on the tool bar like our quote tags button, but it was for youtube... ???

05-07-2009, 09:14 PM
Adminstrator-ess
"Tags" are the code used to make things happen in posts. Any kind of formatting like
centering,
boldface
, color, a
a link, a picture, or even a Youtube video is programmed by tags.
Here's the same sample but with the tags visible (made possible by other tags):
Any kind of formatting like [CENTER]centering[/CENTER], [B]boldface[/B], [COLOR="Lime"]color[/COLOR], a [QUOTE]quote[/QUOTE], a link, a picture, or even a Youtube video is programmed by tags.

05-07-2009, 09:33 PM
Registered User
Join Date: Jul 2008
Location: Erie, PA
Posts: 2,731
Thanks: 0
Thanked 0 Times in 0 Posts
Good explanation.
---
I figured it out...

You actually have to type the tag before and after the embedded code that comes up after you copy and paste the link.
That is what I wasn't understanding...
Thank You.
Thread
Thread Starter
Forum
Replies
Last Post
Suggestions, Comments and Site Questions
Suggestions, Comments and Site Questions
General Diesel Discussion