putting a 90 6bt into a 92 RC.

08-28-2011, 07:04 PM
Registered User
Mark I always wanted a pistol grip in this project. Your dead on again. It is a 70 B-body but I added a 5spd insert from Yearone. I wanted to go this route before with the getbag but it sits to far under the dash and has a longer shift compared to the nv4500. I bought two extra stubs to take one to work and with some square tubing, flat steel, and my Millermatic I will get it on. I want to wait until I have the tranny installed first to see if I can position it exactly where I want it before tacking it up.
Mark the pics dont due the bed justice. Its so clean I couldnt believe it was from VT! But I was told the owner purchased the truck from FL about 12 years ago to rebody his rust bucket but as soon as he paid for the swap health reasons caused him to park the truck so it never saw a snow covered road. It shows, other than the thick layer of tree grime and the bowed tailgate its in great condition. I know I want a 60's tailgate to put on it. One with DODGE embossed in it. You would happen to have a nice one laying around would you

?

08-29-2011, 01:31 AM
Registered User
Join Date: Mar 2010
Location: Prince George, BC
Posts: 6,350
I like your choice of shifters there Freight train...
I have one in my garage I've been lugging around for years, waiting for the right vehicle. I too want to put it on my NV4500 in the crewcab.
Please post up as many pics, dimensions and info of the install when you get to it!!

09-01-2011, 05:29 PM
Registered User
No longer faceless

. I have been super busy and working long hours at work. Which is very disappointing when I am so close to getting the tranny in. I hope to have it bolted up by Sat at noon. I have a wedding to go to

. Really who gets married during college football season. Anyways, luckily for my wife WVU plays on Sun!!! Anyways, I got the pp, clutch, and bell on. I painted the complete under carriage a gloss black. Then since my help (64yr dad) wasnt feeling well I didnt try and slide the tranny in to mark the whole for cutting. Its so close, but I thing the grille sets it off. I am not a fan of the bug shield. I am probably not going to keep it. But, what do you think?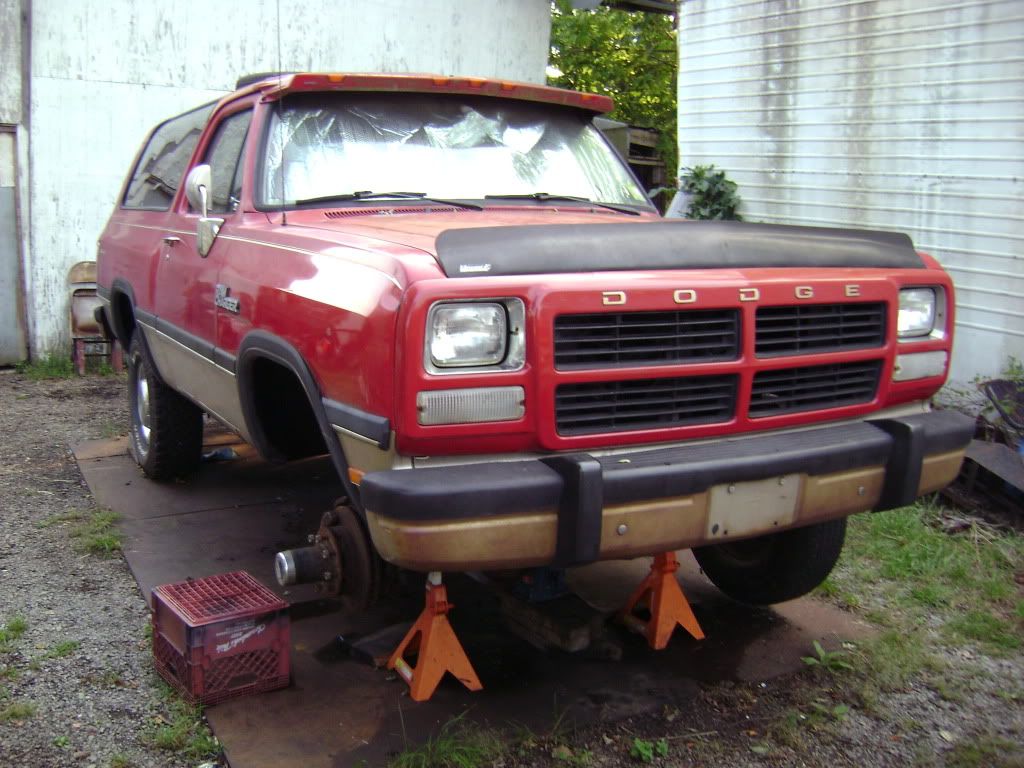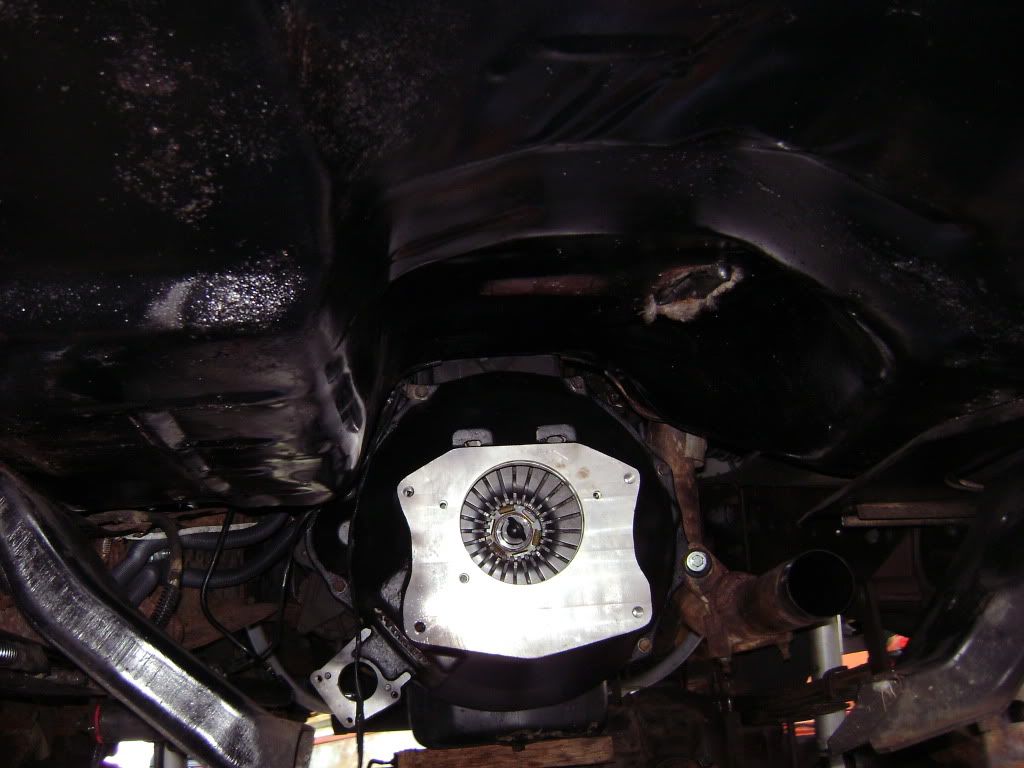 09-02-2011, 07:00 PM
Registered User
Today more of the same. I got up for work at 5am and didnt get off until 5pm

. Anyways, I didnt feel like trying to work the tranny in tonight. So I did install the radiator, shroud, remove the bug shield, and clean up the interior a little. The amount of sand and dog hair was unbelieveable. I then installed my mopar floor mats. I had a tan set but gave them to my dad for his birthday. So a red set will work for now. If any of you out there have a nice set of tan ones for sale let me know? I am looking

Slowly but shirley. Its getting closer and closer


09-05-2011, 11:56 AM
Registered User
Join Date: Mar 2010
Location: Prince George, BC
Posts: 6,350
Looking good!! Is that a Non-IC radiator on an IC rad support?

09-05-2011, 04:00 PM
Registered User
No, I took the radiator's support mounts off the donor trucks support and then removed the ones from the original RC's support. Then simply bolted them on with 3/8 bolts. I wanted to keep the clean red Canyon sport grille but got to have the big non i/c radiator

. The 90's radiator support seemed to be more trouble to get the grille to work with it than what it would have been to get the radiator to fit the RC's support. Worked out. I ordered new upper and lower hoses but have yet to get the upper in

. I guess they are not as popular.

09-08-2011, 11:24 AM
Registered User
Join Date: Mar 2010
Location: Prince George, BC
Posts: 6,350
Ahhhh...I see what you did now. Thanks for the reply.
I'm going to be doing a 91.5-93 rad support/grille change on the crewcab soon and I want to keep my Non-IC radiator....since it's new as well.
Been trying to figure out how I'm going to make the non-IC radiator work on the IC rad support. Now I have one more idea to toy around with.

09-08-2011, 06:41 PM
Registered User
cows, I had a rusty radiator support to rob the radiator mounts off of. I used a spot weld cutter and in 30 min I had both off. It was pretty simple.

09-11-2011, 05:54 PM
Registered User
Well today was more of the same. I didnt get up when I wanted to because a of Morgantown (WVU) indused hangover. You cant go to a WVU game and not drink

. Anyways, by the time I changed oil in both JD mowers and cut my parents grass and my own I had enough time to wire wheel off the old grille gaurd and get it on my RC. Getting there guys, I want the tranny in!!!

09-14-2011, 10:49 PM
Registered User
Join Date: Mar 2010
Location: Prince George, BC
Posts: 6,350
Well I have a spot weld cutter form a mopar restoration many years ago...will scavenge the supports before I toss it out.
and I think that grille guard looks great!!

10-03-2011, 08:06 PM
Registered User
Update guys, with football season up and running and working serious hours at work my project has taken a back seat. But last Sunday I got the nv4500 in and was getting ready to install the np205 when I noticed gear oil. So I ordered a new rear output shaft seal, installed it then realized the front drive shaft yoke was loose. So I called Ma Mopar and ordered a new seal for it. Then on a whim I ordered a Ranch Hand rear bumper for a Chevy. Went off dimensions. Just about got it totally mounted this afternoon before it started to poor down rain. I know its not the taste for some but this thing is heavy, really it weighs 120lbs. Plus I wanted a step bumper and one that could haul a small boat or carrier. Anyways, since it started to rain on me I didnt get any tranny pics but I will. I also got my Hurst shifter mount made up. I am waiting until I get the np205 in and mopar nv4500 tranny fluid in before I install it for good but trust me. It looks and feels like the Lord used my hand as the mold for it

. Well not totally mounted but thought some eye candy would tell the story.
Edit: I have the bumper mounted and here is some updated pics with the tranny in


10-10-2011, 04:15 PM
Registered User
Well I was able to take advantage of the nice weather we had this past Sun. I installed my np205, 4" downpipe, 4x4 shifter linkage/bracket, and after pouring in 4.5qrts of Mopar nv4500 fluid I installed my Hurst pistol grip setup. I have to tell you. It feels like butter!!!! I know its not in everyones taste but with a tight shifting tranny the pistol grip is very nice. Plus like a woman with a sexy figure, it isnt hard on the eyes. I am taking the rear drive shaft to have it shortened tomorrow. Then I think with some 4" flex exhaust finish out my exhaust system. I didnt notice a leak coming from the radiator. I noticed a the top driverside tank had some damage but I guess it might have been more severe than first thought. I wonder if Becool makes a replacement radiator that will work with the factory shroud? Any one else know??? Well here is where I stand


10-10-2011, 06:27 PM
Registered User
Join Date: Apr 2008
Location: Palmyra, Nebraska
Posts: 857
Thanks: 0
Thanked 0 Times in 0 Posts
If you CAREFULLY heat the boot with a hot hairdryer, it MIGHT form around that handle pretty good.
As far that looking sexy, yeah, I'm all for that AND the well-shaped ladies, too!

Mark.

10-10-2011, 07:38 PM
Registered User
Mark I seriously thought about using my hot air gun on it but the thought of melting it or causing it to split stopped me. Its on there very tight and I dont feel it will slide down being its very tight. Maybe once I start driving if it starts to move on me I will try it. I hope over time it will form to the shape

.
Mark do you remember what you cut your rear shaft to? I measured (roughly) 35 5/8" from center cap to center cap. Roughly 37 1/4" from the nut on the TC to the pinion nut on the rear. I know you might have a different spring setup then me but I hate cutting anything

. I am taking it over to Hagerstown MD to have it cut, welded, and balanced at Fleet Pride. Never had them do anything for me before but they are the only choice for 50 miles. Whats happening to the country??? Machine and specialty shops are going away with no one taking over. So sad

.

10-10-2011, 08:15 PM
Registered User
Join Date: Apr 2008
Location: Palmyra, Nebraska
Posts: 857
Thanks: 0
Thanked 0 Times in 0 Posts
I don't remember the measurements and I don't own the DAMNCHARGER anymore, either.

As far as no specialty and machine shops, with the way the current system is towards small business owners, noone can, or wants to, afford starting a business up.

Mark.