How to: Check codes, test gauges, and check hours

11-29-2008, 09:58 AM
Administrator/Jarhead
How to: Check codes, test gauges, and check hours
---
How to Check codes:
Turn the key on and off 3 times, do not engage starter. On the third cycle, leave the key on. In my vid, it reads 'DONE' because I have no codes, but if you have them, they will display.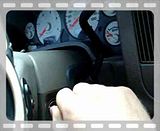 How to do a gauge check/display 'C' codes:
Press the odometer trip reset, hold it, then turn the key to the 'ON' position. Do not engage starter. Once the gauge check starts, you can release the button. Once it is done with the gauge check, it will display 'C' codes.
Hour meter check:
Turn key to 'ON'. Press and hold Odometer trip reset button. After a few seconds of it being pressed, it will show the hours.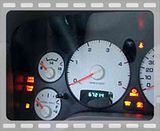 hth...
mad

11-29-2008, 10:44 AM
Advocate of getting the ban button used on him...
Join Date: Aug 2005
Location: Far West El Paso Texas
Posts: 5,038
Thanks: 0
Thanked 0 Times in 0 Posts
Thanks madhat. I am sure this will help many people.
Not sure about other years or if the autos are different than standards, but my 2006 with 6 spd I have the little key release button on the column to turn the key back to the "Off" position. My little trick to do it fast enough to work is hold the button with my left hand while cycling the key on and off. HTH others


01-17-2009, 08:07 PM
Registered User

Join Date: Mar 2004
Location: Denver
Posts: 358
Thanks: 0
Thanked 0 Times in 0 Posts
Will the code check, "on-off-on three times" work on a 2006 ?

01-19-2009, 01:13 AM

01-19-2009, 07:09 PM
Registered User
Join Date: May 2008
Posts: 16
Thanks: 0
Thanked 0 Times in 0 Posts
Question
---
I just went out and checked the codes on my 04.5 and got code #'s 21 18 and 67 61 and 0 0. I have no idea what these mean can someone please help me out

01-19-2009, 10:30 PM
Administrator/Jarhead
Look here...
http://wiki.dieseltruckresource.com/wiki/Computer_codes
Those look like C codes, tho... did you push the odo trip button when you got these? If so, then they are soft codes that are not a big deal, one number means that a certain event happened briefly XX amount of key cycles ago. For example, if your alternator dips voltage below the ecm's limits for a second, it will trip a C code. (not sure if that specifically, but you get the idea...)

01-19-2009, 10:34 PM
Banned
Join Date: Sep 2004
Location: Christiana,Pa
Posts: 1,278
Thanks: 0
Thanked 0 Times in 0 Posts

01-19-2009, 10:49 PM
Registered User
Hey Hat, I PMed you before on this for my 06. I still can't get it to do it. Tried and Tried somemore. Anymore info on this?

01-19-2009, 10:51 PM
Registered User
Or, maybe its because I dont have any codes. lol

01-20-2009, 12:15 AM
Administrator/Jarhead
No, if you don't have codes, it will come up like mine did with 'Done'... Might want to go talk to the dealer...

On second thought, start a thread. Or, I will if you want me to, I want to know...

I did my buddies 07.5, and his would not show codes, but when I put my smarty on it, it showed them.

01-24-2009, 11:42 AM
I just tried walking my friend in Missoula through this on his 07 5.9 and it wouldn't display anything. Stock truck, engine light came on last night durring a long drive. He's headed to Lithia to have the codes checked. I will let you know if he learns anything. He is a Cat mechanic so is very familiar with diesels.

02-07-2009, 11:32 AM
I dont know if it works on 06s,though both times that I tried it I never did have a code,but after the third time the key was turned my check engine light came on.Went through the sequence once more and it went out.I tried this on 2 seperate occasions and the same thing happened,the odometer just read the current milage in the end.

02-19-2009, 10:58 AM
Registered User
Trying to help my bro out w/codes on his 06 CTD.
He states the display shows these 3:
28.3
S 12.5
C 44.7
I tried looking them up but didn't anything. Ideas? thanks.