Just removed the silencer ring

03-20-2006, 04:23 PM
the white pieces you see are at both ends in the bends ( dont keed theose break them and they come out! then in the straight piece (take the 2 clamps off on the ends elbows come off look inside. black plastic straps looks like a plus sign + runs the whole length of the intake break those out and there you go !

03-21-2006, 12:56 AM
Registered User
Join Date: Feb 2006
Location: stephenville, tx
Posts: 624
Thanks: 0
Thanked 0 Times in 0 Posts
vikings silincer ring wasnt that bad, i had a kid ask me to look at his turbo one day, i said sure but i dont know much though. when walking to his truck i ask him what he thought was wrong, he said it was making a tinging noise and he hadnt had a chance to look at it since a budyy took his silincer ring out.To make a long story short the kid just took the snap ring out, and the silencer ring had turned sideway and hitting the fins.

03-21-2006, 06:59 PM
it is something a beginer can do very easy ( basically you cant hurt it) i mean thats what you want to do break the inside out anyway possible! no power gains from it just alot louder turbo whistle and intake howl ! ( gotta love it) good luck!

03-21-2006, 07:09 PM
Registered User
Join Date: Mar 2006
Location: Florence, MS
Posts: 33
Thanks: 0
Thanked 0 Times in 0 Posts
well i did it on one of my breaks at work so it only took like 10 minutes. i didnt really notice that much difference tho. do you have to have a filter and exhaust to really notice it? i ordered an air raid filter but im still waiting on it to come in. it is louder in 6th when im crusing but other then that i didnt notice alot of difference. i didnt take any of the plastic stuff in the intake tube out either tho.

03-21-2006, 09:06 PM
Registered User
Join Date: Apr 2004
Location: NW Indiana
Posts: 3,241
Thanks: 0
Thanked 0 Times in 0 Posts
I've listened to turbo's with and without the ring and I can't tell the difference. Not worth slipping with a screwdriver and having a turbonectomy on my hands...


03-21-2006, 09:09 PM
Registered User
Join Date: Aug 2004
Location: Batavia, Ohio
Posts: 1,570
Thanks: 0
Thanked 0 Times in 0 Posts
I replaced my baffle tube a few weeks after my silencer ring. I can say the baffle tube is what deffienately made the difference in more turbo whine. Of course your not gonna get close to a 6.0 sound

03-21-2006, 09:18 PM
Registered User
Join Date: Feb 2006
Location: Marrero, Louisiana
Posts: 52
Thanks: 0
Thanked 0 Times in 0 Posts
---

It really isn't hard to romove the silencer ring, make sure you put plenty of light on the subject so you can see the ends of the snap ring. One end of the snap ring is cut at an angle and you can get the tip of a small screwdriver under it and pry it out of the groove. As for removing the silencer ring without first removing the snap ring, I would not try it as one wrong slip of any tool with force behind it could end your relationship with the very Turbo you are trying to hear more of.
As for removing the baffles from the intake tube; first remove both rubber ends from the main body section. Next, I used an old hacksaw blade to cut off one of the four sides of the inner baffle working from one opening to the other. This inner baffle is made up of two interlocking parts, and once you remove one of the four sides the rest of the assembly will almost fall out.
After Removing the Baffles from this

(Turbocharger Muffler)

. I Finally decided to buy one of those AFE Torque Tubes, Only because it is a MUCH nicer looking piece than that HUGE Cannister.


03-26-2006, 11:19 PM
Banned
Join Date: Feb 2006
Location: Northern Alberta Canada
Posts: 119
Thanks: 0
Thanked 0 Times in 0 Posts
Originally Posted by HorseHauler
$10+ s/h and you get this... very simple to do, no chisseling away at the stock baffle tube so it can be easily put back in...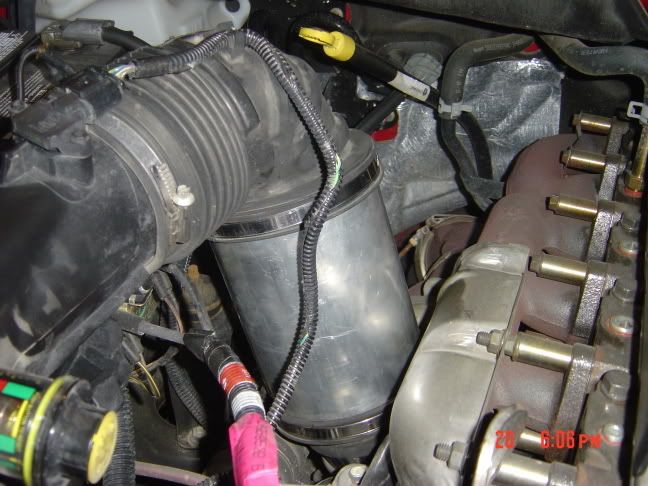 http://store.airflo.com/al5.html
Just went to my muffler/break shop while in doing other work asked them to replace tube with stainless (No charge), looks good with some percieved increase in performance and a slight increase in turbo noise. I still want to do the silencer ring. Thanks for the pics viking as I was unsure what was involved to do the removal. I think I will avoid taking a jack hammer to it though.


12-19-2006, 09:13 AM
Registered User

Join Date: Sep 2006
Location: Central NJ
Posts: 6
Thanks: 0
Thanked 0 Times in 0 Posts
I agree. The (silencer ring) retaining snap ring was impossible for me to extract. I tried using a small jewelers screw driver with another to get under the snap ring. However this did not work as well. I think it was because of theposition of the opening of the snap ring. It is located at the top of the turbo inlet, which made it impossible to get at.I did not have a 90" pick. But I will try to obtain one. I just left the ring in for now and installed a Cold air intake kit. Turbo is alot louder with the intake. No restrictions at all.

12-19-2006, 09:22 AM
Registered User

Join Date: Sep 2006
Location: Central NJ
Posts: 6
Thanks: 0
Thanked 0 Times in 0 Posts
Here is the pic of the intake. It's total cost was $228 delivered to the house. Well worth every penny. Quality product
Check it out. I have an 04 Orange County Chopper edition 2500 SLT 4x2. Real Sweet ride.

12-19-2006, 09:37 AM
Originally Posted by
VikingDiesel
Pulling out the snap ring is INSANE. I gave up with the snap ring after 30 min and I started concentrating on the silencer ring itself. I took a BIG FLAT screwdriver and I worked around the silencer ring and started bending it towards me. I then took a pair of pliers and I pulled hard untill SUCCESS it started coming out from the snap ring and right off with the snap ring still in place. I dont see any harm with the snap ring in place b/c thats just impossible for me to take out.
Ill post some vid clips later:

OH MY GOD! Are you kidding me?

Dude, did you use a battle axe or a small camping hatchet?



Wow. That is impressive. I use one of those small pencil type flat screw drivers that clip in your pocket. Sorry about your luck. I hope you like the whistle!!!



12-19-2006, 12:16 PM
Registered User
Join Date: Feb 2006
Location: Chicago, IL
Posts: 1,183
Thanks: 0
Thanked 0 Times in 0 Posts